CLIENT: PsychoArrow
Project: Identity design. Create recruitment/awareness advertising campaign.
STATUS: Business never launched
Art Director: Michael Taylor
Copywriter: Michael Taylor
Photography: Combination stock photography and photoshop magic.
SAMPLE
Headline:
Band of killers sought by Psycho.
Body Copy:
Psycho Arrow, L.A.'s hottest up and coming recording label, is searching for a talented, marketable, killer band interested in a profitable recording contract. This gig is not for everyone. Only one band will sign.
If you shriek, shred and bang your head, you're what we're looking for. Polka bands need not respond.
If the description above matches your profile, post a video and send us a link. For more information, check us out at psychoarrow.com.
No phone calls.
We're Psycho, not insane.
Sometimes good ideas die. Sometimes, its because a business never got off the ground and sometimes its because the client just wont buy off.
So, good ideas go in to the morgue and quietly wait for a day when they might get resurrected - because creative is hard to kill.
You can take a stab at it, beat it to death, whip it in to a frenzy and make the logo bigger, but that doesn't make it a good idea let alone a great one.
That's what we creatives do. We give life to great ideas. We bring new breath from lifeless form.
On this page you'll find some of the things I created that never really went anywhere - except into a drawer with a toe tag so I could identify it later.
The Morgue
Where good ideas go after they die.
©2015 mt4design.com All Rights Reserved.
The Superheroes
Or how to create a complete campaign integrating everything from print to web to viral videos
and then painfully watch it die.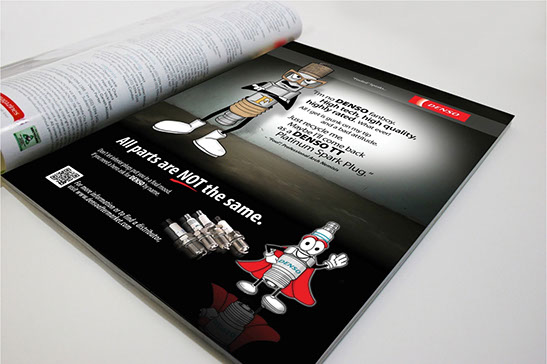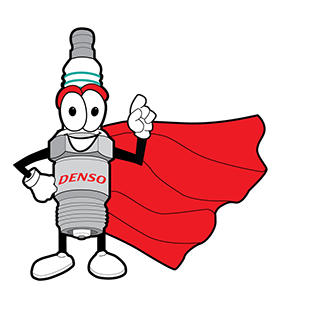 Art Director: Michael Taylor
Illustrator: Michael Taylor
Copywriter: Michael Taylor
Photography: Steve Pollock
We had created an entire product line of little, cushy figures as give-aways and called them DENSO Superheroes.
When the time came around to develop a new product ad campaign, I pitched the concept of playing off our previous testimonial ad campaign but instead of featuring our loyal customers praising our product benefits, we should have each superhero character's arch nemesis speak out about them.
Mission accomplished. The concepts went over great. I had the plan together; roughed out animatics for how the viral videos would work; creating comps for the look of the landing page and the social media tie ins; I even shot a video demonstrating a user thumbing through a magazine, stopping and scanning the QR code taking them directly to the pay off. It went over great...for a moment.
"The overall concept is great, but, uh, lose the nemesis."
...the saga continues below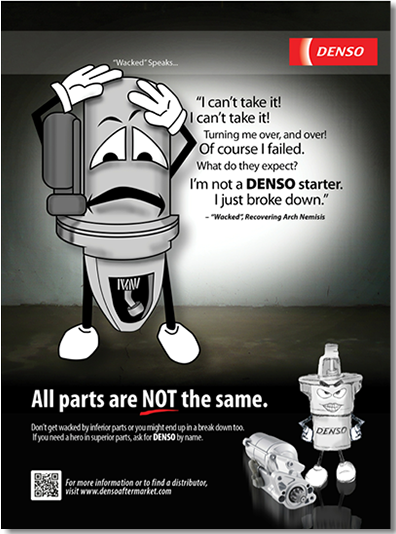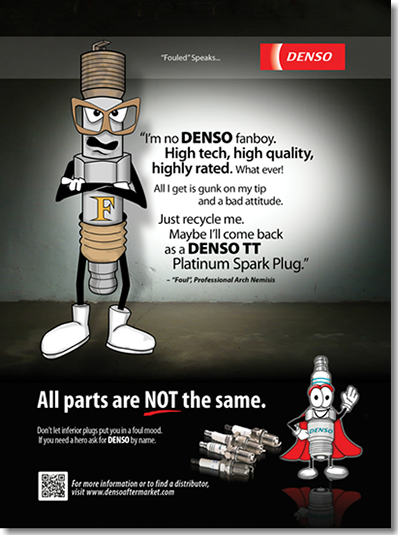 Two initial comps, "Fouled speaks" and "Wacked" breaks down.
Superhero "Flash" starred in promotions, giveaways and even made tradeshow and event appearances.
Animatic for "ToolTube", where Fouled spills the beans about his frustration over the quality of DENSO products.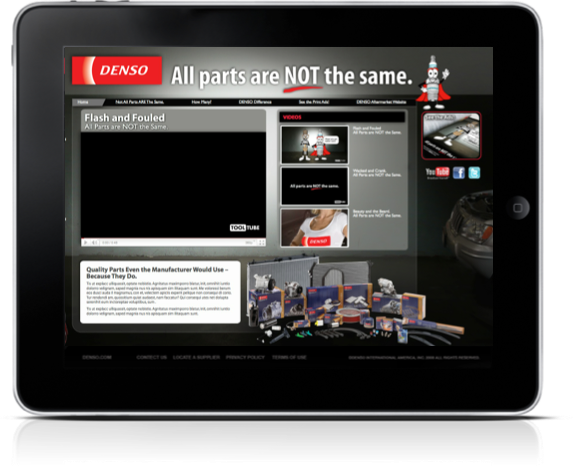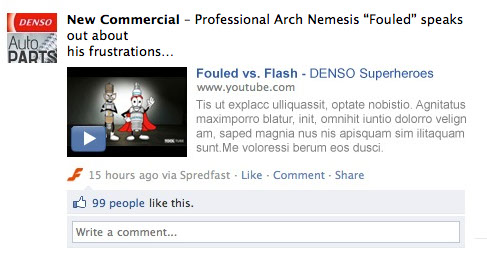 saga, continued...
So, I created the series featured below, making the actual hard part the superhero, with the respective character becoming their advocate.
Again, I nailed the presentation. Lower management bought off. Now the problem. I am not allowed to give the presentation to upper management. Its life was out of my hands. Now its sitting in the morgue, a victim of murder by death.
New Commercial - Professional Arch Nemesis "Fouled" speaks out about his frustrations...
Web and social media experiences were roughed out for presentation, complete with working navigation, embedded video and more.
Click on the images for a larger view the comps.

Happy Holidays
"Great things come in a DENSO box.
Designer: Michael Taylor
Illustrator: Michael Taylor
Copywriter: Michael Taylor
This was a concept for a holiday card. In the end, I guess it was just too flashy.